AB 558 (Nazarian), the Child Nutrition Act of 2022 Passes the Full Assembly 47-7!
After working on this legislation for 3 years, we are thrilled to announce that AB 558, the Child Nutrition Act of 2022, authored by Assemblymember Adrin Nazarian and cosponsored by Social Compassion in Legislation, Physicians Committee for Responsible Medicine, Factory Farming Awareness Coalition, and Friends of the Earth, which incentivizes K-12 public schools across the state to offer healthier, climate-friendly plant-based meals and beverages passed the full Assembly with an initial vote of 47-7.
As our children's health decline with an epidemic of obesity and diabetes, it's more important than ever to introduce kids to healthy meals, while also reducing our carbon footprint by shifting to more plant-based school lunches.
The bill now moves to the Senate, where it will first be heard in the Education Committee.
The bill has a long way to go, so please keep an eye out for future updates on how to support AB 558 all the way to the Governor's desk and if you haven't already, please sign a support letter!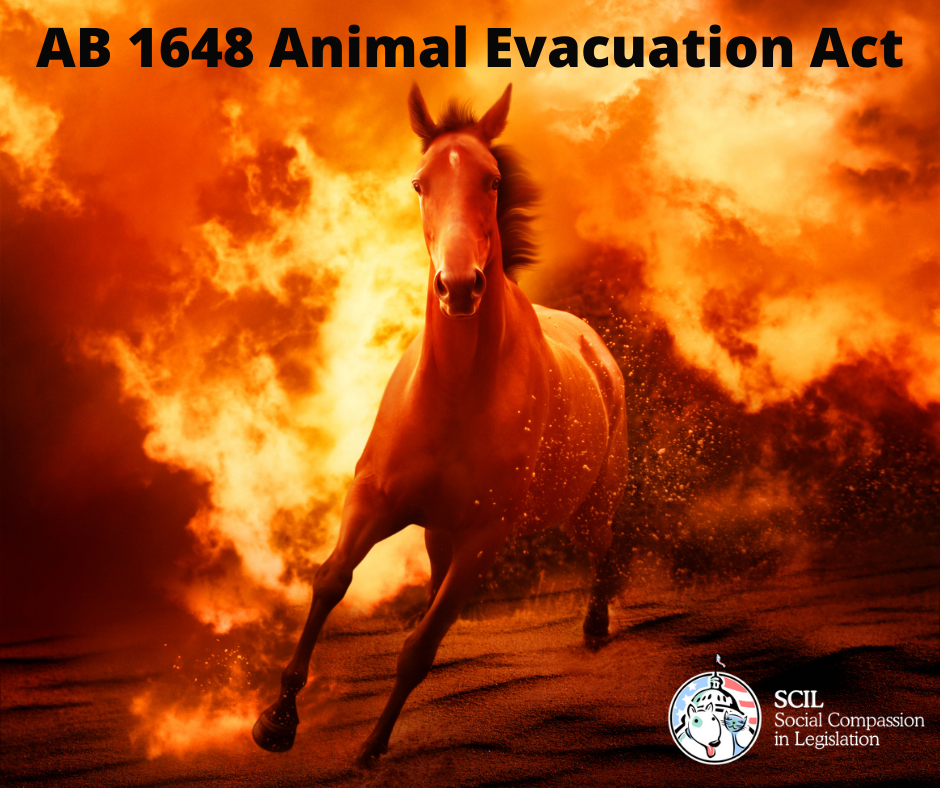 This bill specifies where a city or county requires a permit to keep animals within its jurisdiction, AB 1648 will require an animal owner as a condition for obtaining the permit to create and submit an animal wildfire evacuation plan.
California continues to experience catastrophic wildfires of historic proportion devastating both Northern and Southern California. These disasters, among other things, tragically highlighted the serious need for preparing and executing evacuation plans for animals. In the chaos of wildfire, animals are and will be left to suffer and perish in the absence of pre-planning by their guardians. Furthermore, when animals are not evacuated, first responders and "good Samaritans" are put in danger while trying to save those animals.
The sheltering and protection of animals is the primary responsibility of their owners. As the effects of climate change worsen, wildfires are expected to occur more often and with greater ferocity. This is our new normal.
Please support AB 1648 and all of Social Compassion in Legislation's sponsored bills. Please add your name to our support letters, go to our Send a Support Letter page and click the "All Bills" box so that it is outlined in RED and then follow the prompts!
We are off and running to save animals in 2022. We cannot thank you all enough for your support. All the calls are essential for success!
If you have already made a donation…thank you so much! If you have not, please consider making a donation to support our vital work for 2022 and beyond.
Thank you so much,
Judie Mancuso, founder/CEO/president
Social Compassion in Legislation