B 416 (Kalra) The CA Deforestation-Free Procurement Act Passes Assembly Accountability and Administrative Review Committee with a 4-1 Vote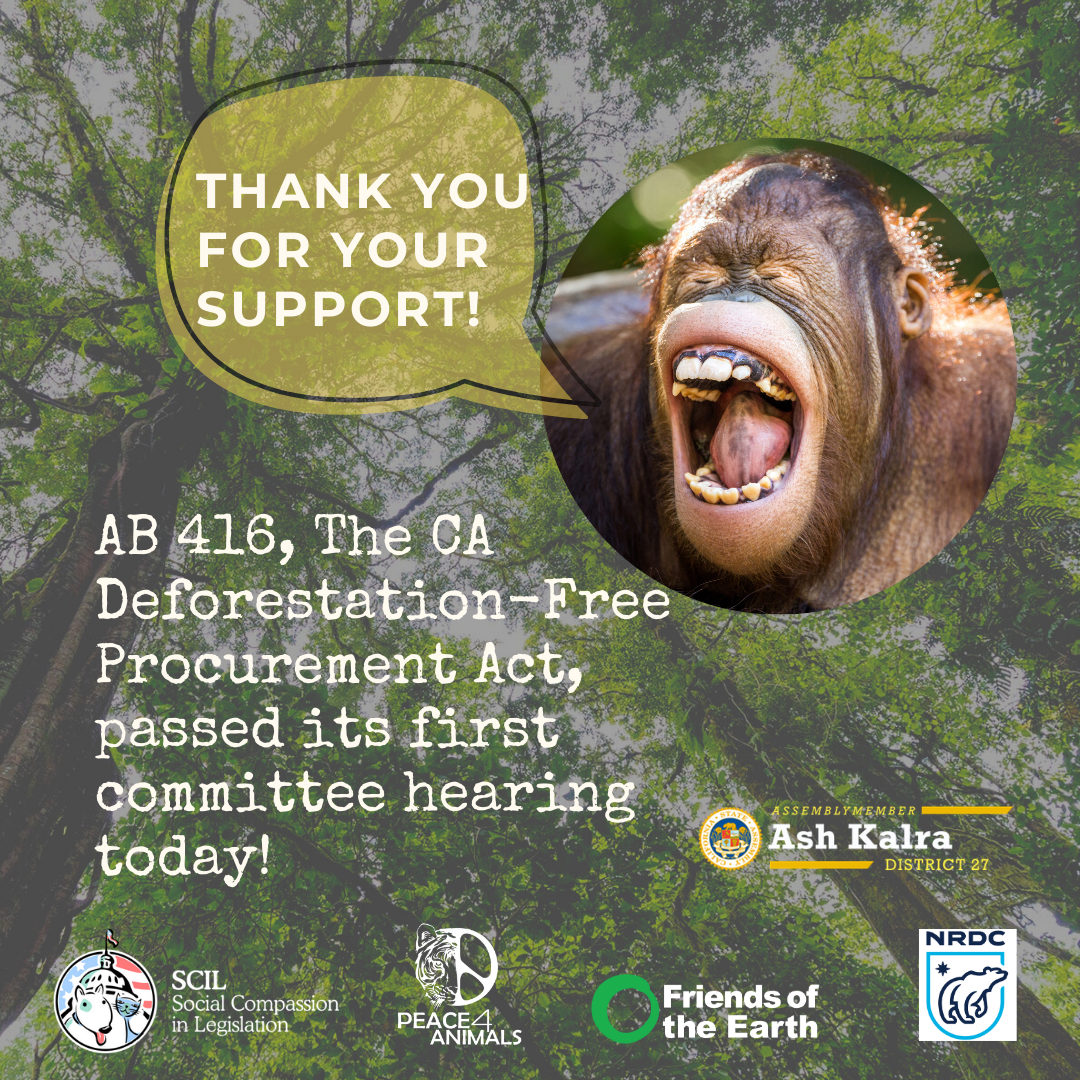 Today, AB 416 the Deforestation-Free Procurement Act passed the Assembly Accountability and Administrative Review Committee with a 4-1 vote. Earlier this year, this bill was introduced by
Assemblymember Ash Kalra
(D-San Jose) along with co-sponsors,
Social Compassion in Legislation
,
Friends of the Earth
, the
Natural Resources Defense Council
, and
Peace 4 Animals
. If passed into law, California would become the first in the nation to require state procurement contracts to certify that operations and supply chains are not contributing to tropical or boreal deforestation or intact forest loss. All state contracts involving commodities such as palm oil, soy, cattle, rubber, paper/pulp and timber would require contractors to maintain a No Deforestation, No Peat, No Exploitation (NDPE) policy, and provide evidence that their operations are not linked to forest destruction and degradation or abuses of indigenous peoples' rights.
"I am grateful to Chair Cottie Petrie-Norris and the Committee for passing AB 416 today, and I want to thank the bill's sponsors for their tireless work and advocacy on the California Deforestation-Free Procurement Act," said Assemblymember Ash Kalra. "The industrial-scale exploitation of these forests have wide-ranging impacts on biodiversity and human rights, and we can ensure California is not an inadvertent contributor to the destruction and degradation of tropical and boreal forests through more vigorous supply chain accountability."
"Rampant deforestation is catastrophic to both humans and animals," said Judie Mancuso, CEO and Founder of Social Compassion in Legislation. "We give special thanks to the Chair of the Committee,
Assemblymember Cottie Petrie-Norris
, for her support of the bill. The Committees' vote reflects the importance of California being a leader in forest protection by utilizing its purchasing power to support corporations who are doing the right thing."
AB 416 will now move to the Assembly Appropriations Committee.