AB1282 Cleared It's Second Committee Hearing Today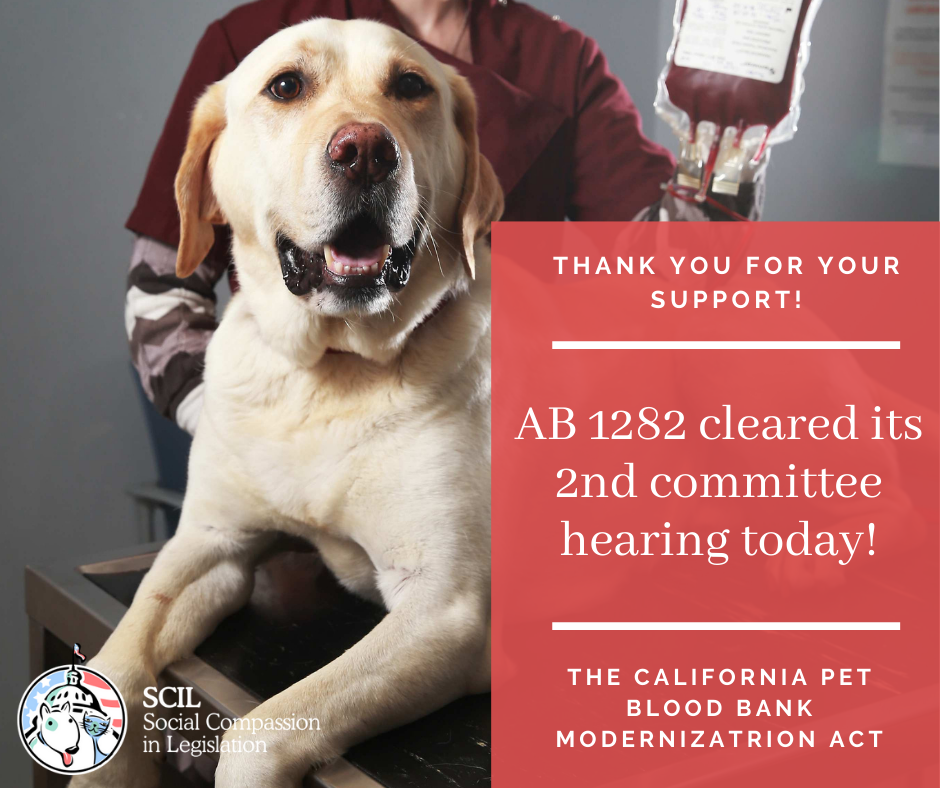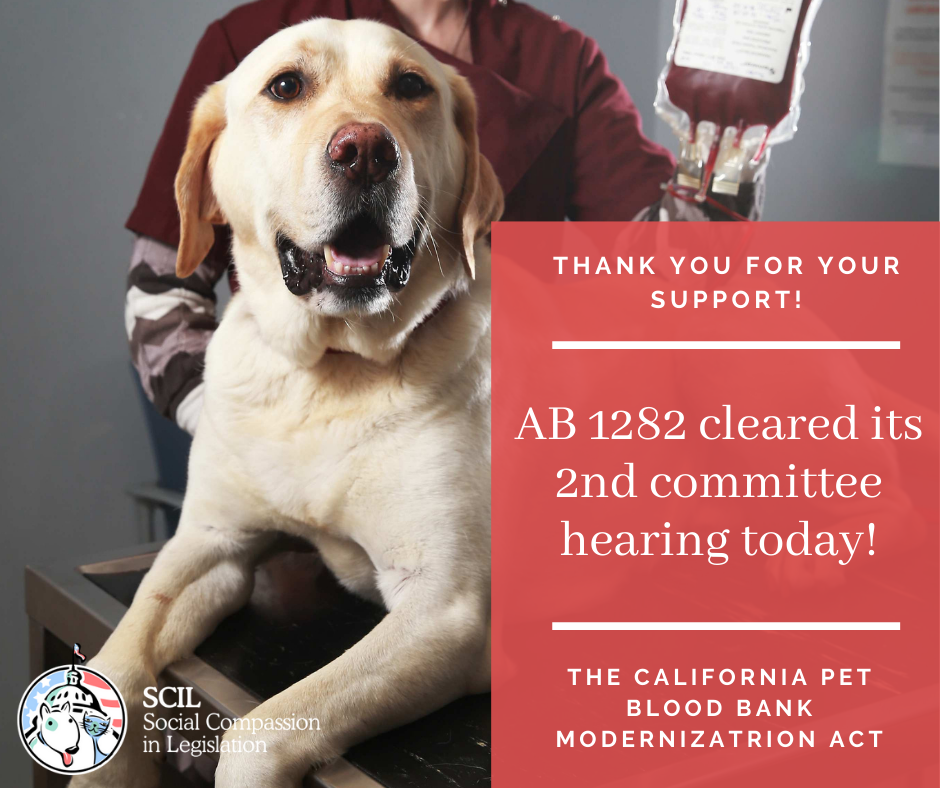 Latest News!
Again, we must first thank the hundreds of you that have sent in support letters and made calls for all of the bills we have sponsored this year.
Please continue to encourage your friends and family to sign up on our website to stay informed and lend their support. We are still at the beginning of a two year legislative session and have lots of work to do, and will need your continued support!
AB 1282, The California Pet Blood Bank Modernization Act Passes Assembly Agriculture Committee with a 9-1 Vote
Today, AB 1282, the California Pet Blood Bank Modernization Act, passed the Assembly Agriculture Committee with a vote of 9-1. The bill, introduced earlier this year by authors California State Assemblymember Richard Bloom (D- Santa Monica) and Senator Scott Wilk (R-Santa Clarita) and led by Social Compassion in Legislation, aims to bring transparency and oversight to animal blood banks in California by allowing community blood banks and phasing out captive-closed colonies. It unanimously passed the Assembly Business and Professions Committee on April 20th.
California is the only state in the nation to prohibit community-sourced blood donations. If passed, AB 1282 will change current law and allow pet owners to volunteer their pets to give transfusions to animals in need. It will require veterinarians to supervise community blood banks for animals, mandate testing for disease in all donors, and make records related to commercial blood banks available to the public.
"We thank Chair Robert Rivas and the members of the Assembly Agriculture Committee for recognizing the importance of this bill by supporting it today," said Judie Mancuso, Founder and CEO of Social Compassion in Legislation. "Closed-colony blood banks are inhumane, and there is no logical reason to keep animals as blood slaves in cages when we have compassionate options that have proven successful in other states."
The bill will be voted on next in the Assembly Appropriations Committee.
Please, spread the word on our lifesaving bills and get others to visit our website and send their support too. And please, consider making a donation to support our vital work.
Thank you for your help,
Judie Mancuso, founder/CEO/president
Social Compassion in Legislation