Call to Action & AB 1648 "Animal Evacuation" Bill Headed to the Governor's Desk!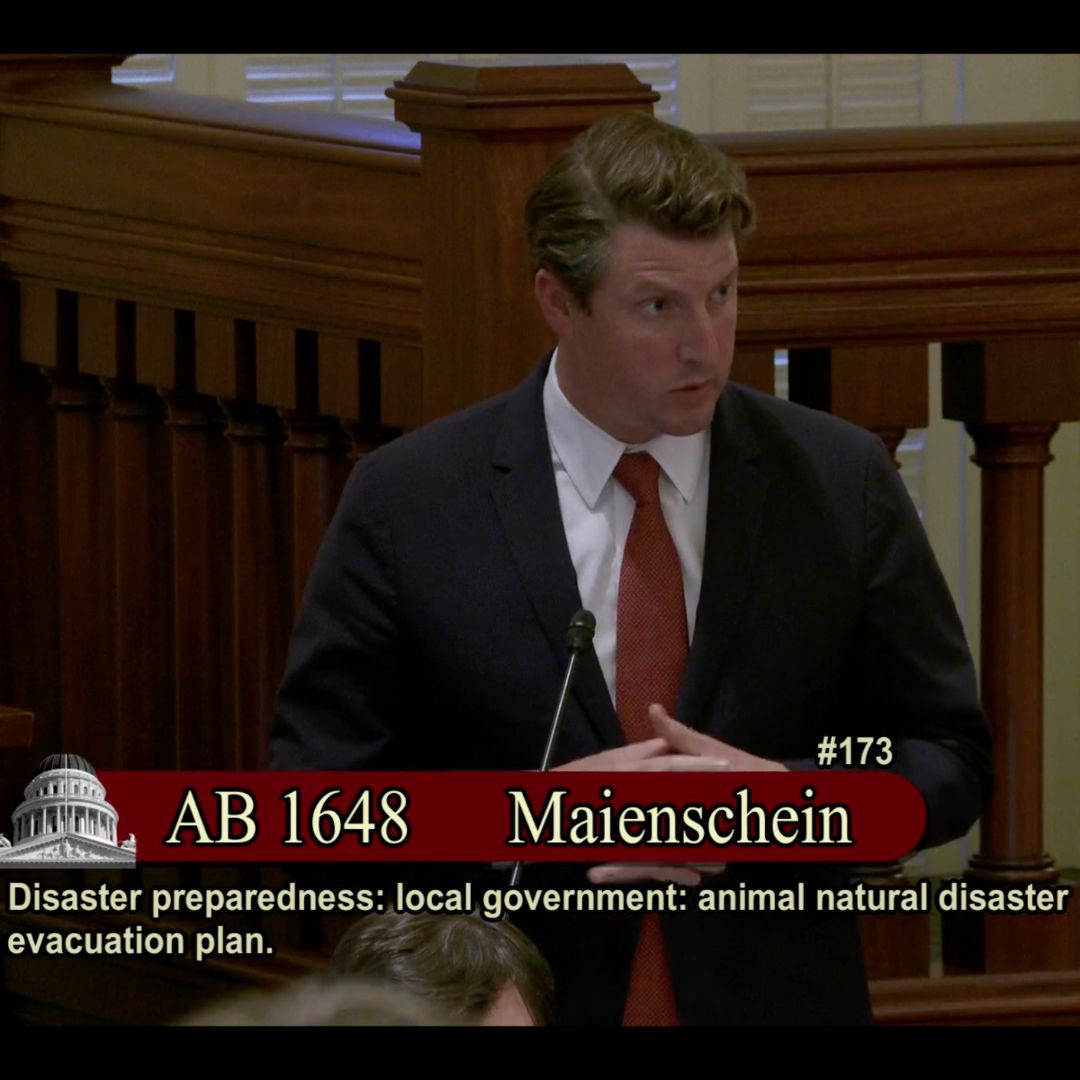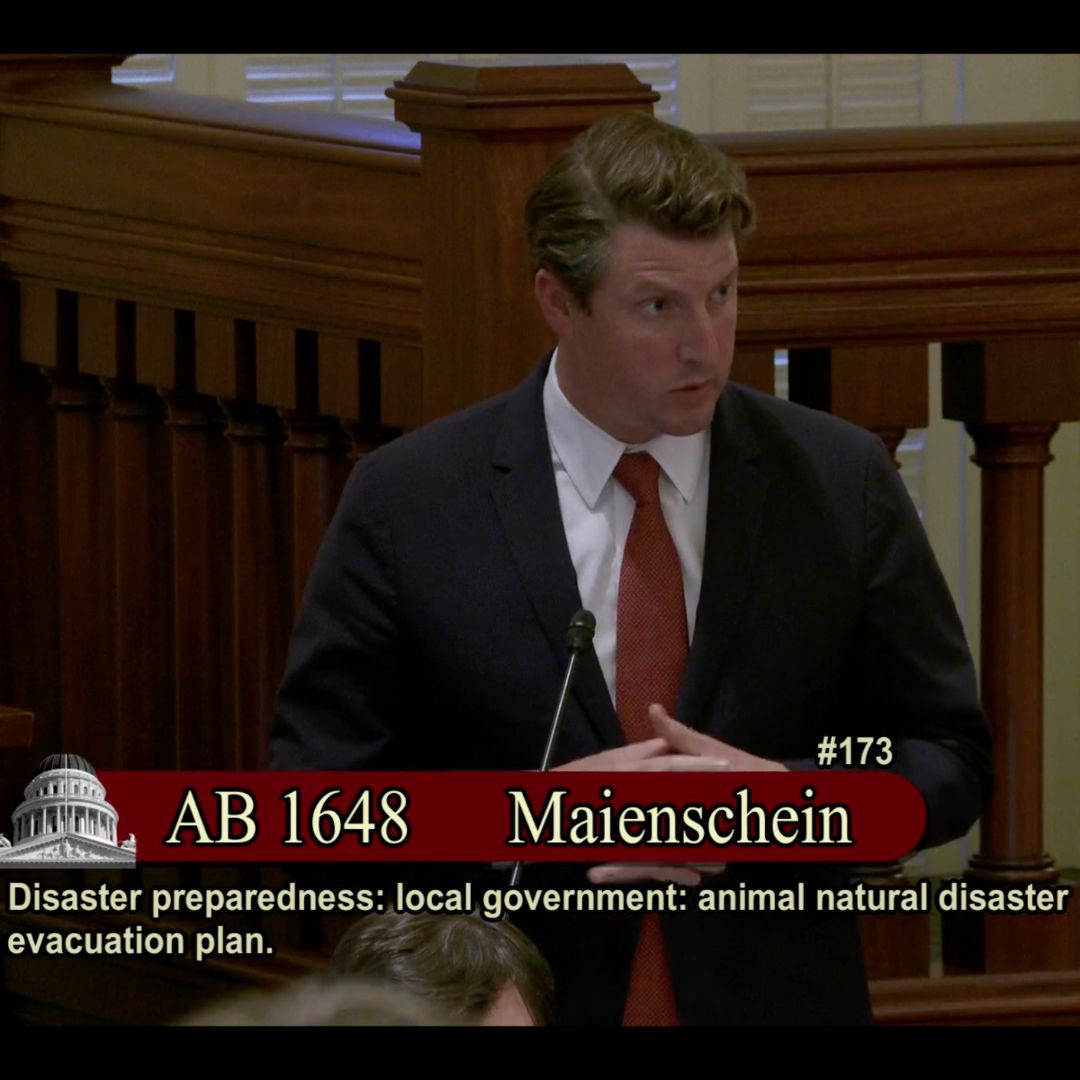 UPDATED: Final Vote 34-0
AB 1648, the Animal Evacuation Bill, Passes Full Senate! Now Heads to the Governor for His Signature!
Yesterday, AB 1648, a bill that will require an evacuation plan as a condition of all kennel permits, passed the full Senate with a vote of 34 to 0. The bill, authored by Assemblymember Brian Maienschein (D-San Diego) and sponsored by Social Compassion in Legislation, will be presented to Governor Newsom where he will have until September 30th to sign the legislation.
"When a natural disaster strikes, the rush to evacuate can be overwhelming. Unfortunately, many animal owners do not have an evacuation plan in place for their animals and sadly leave them behind," said Assemblymember Maienschein. "This is why I authored AB 1648, which would ensure that animal owners provide further protection for their animals by creating and implementing an evacuation plan as a condition to obtaining a kennel permit. I am proud that this bill is now on its way to the Governor's desk."

"This requirement has served my community in Laguna Beach well for decades. Now that our state has a year around fire season and potential for flooding, it is important that all jurisdictions require an evacuation plan when an individual has a number of animals that require a permit," said Judie Mancuso, Founder and CEO of Social Compassion in Legislation, sponsor of the bill. "This law helps facilitate orderly evacuations, which will save the lives of families, their animals, and importantly, our first responders."
California continues to experience catastrophic wildfires of historic proportion devastating both Northern and Southern California. These disasters, among other things, tragically highlighted the serious need for preparing and executing evacuation plans for animals. In the chaos of wildfire, animals are and will be left to suffer and perish in the absence of pre-planning by their guardians. Furthermore, when animals are not evacuated, first responders and "good Samaritans" are put in danger while trying to save those animals.
"Social Compassion in Legislation thanks Assemblymember Maienschein for his leadership on this important issue," said Nickolaus Sackett, Director of Legislative Affairs for Social Compassion in Legislation. "We also thank Senator Stern for presenting the bill on the Senate floor and the entire legislature for its broad, bipartisan support of AB 1648."

"In the course of my career, I cannot count the number of times our Animal Control Officers and kennel staff were loaned to other agencies in order to help mitigate the animals left behind," said Gina Knepp, National Shelter Engagement Director for Michelson Found Animals. "Including an evacuation plan in an already existing permitting process, may exponentially reduce the burden on animal control agencies and most importantly, reduce the number of animals that suffer and often die as a result."
We will be sending out an action alert in the coming days with instructions on how to contact the Governor and urge him to sign AB 1648.
AB 1881 Needs Your Call to Your Senator Now!
AB 1881, the Dog and Cat Bill of Rights is up for a vote by the full Senate as soon as Monday.
Please make a call to your Senator urging them to vote "YES" on AB 1881!
This bill is aimed at educating adopters of the needs of dogs and cats. Unfortunately and perplexingly, CalAnimals, the association that represents the animal control agencies and shelters across the state, is opposing the bill.
The purpose of the bill is to educate potential adopters of the needs of dogs and cats. It's as simple as that. Some shelters do an amazing job at educating the public. Others do not. This bill lays out bullets (see graphic above) that we hope all potential adopters consider, and requires shelters, humane societies, and rescues to simply make accessible to the public….that's it!
What in this list could a group who represents themselves as animal welfare be opposed to?!
Again, we recognize the great work of many shelters, humane societies, and rescues, but we want to see these humane considerations uniformly recognized across the state.
Please call your Senator and tell them:
"YES on AB 1881, and please do not listen to opposition's mischaracterization of the bill!!"
We cannot thank you all enough for the action you take for the animals! Please consider making a donation to help us continue our work.
With gratitude,
Judie Mancuso, founder/CEO/president
Social Compassion in Legislation