Two Bills Sponsored by Social Compassion in Legislation Both Pass Unanimously in the Assembly Business & Professions Committee!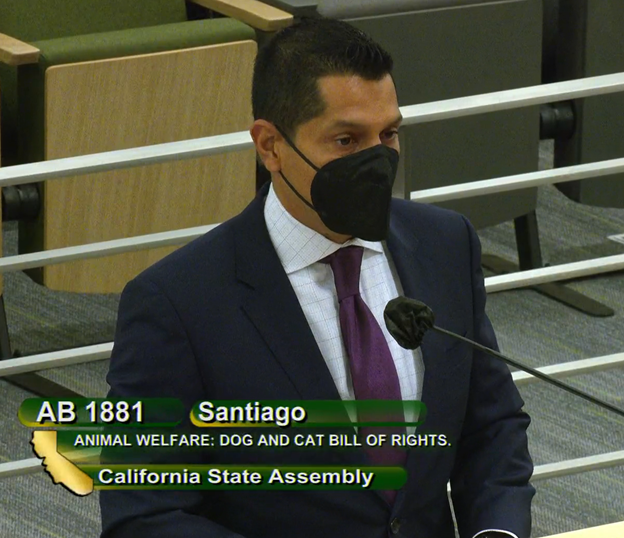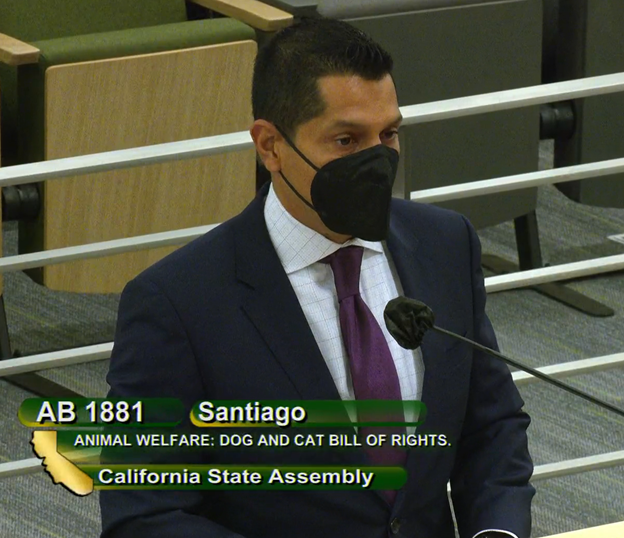 Today, we are thrilled to share the news that two of our sponsored bills passed the Assembly Business and Professions Committee. Both bills, AB 1781 and AB 1881, will protect the well-being of dogs and cats in our state, but in two unique ways. AB 1781 was on the consent file, meaning all members voting yes, while AB 1881 passed the committee with a vote of 14 – 0 (All members voted yes, except: Vice Chair Flora, Fong, & Dahle all abstained, and Cunningham was absent).
AB 1781 (Rubio), Safe Transportation of Dogs and Cats, requires mobile or traveling housing facilities, such as animal control vehicles, to transport dogs and cats in such a manner that conditions do not endanger the health or well-being of the animal due to extreme temperatures or lack of food or water, to prevent animals from being dead on arrival due to heatstroke or other conditions.
Both the Democratic and Republican caucuses decided to unanimously support the bill, which allowed for it to move forward on "consent," meaning they saw no need to debate the bill.
"We are pleased that both parties saw the need for AB 1781, legislation to protect dogs and cats while in transport by animal control or other entities," said Judie Mancuso, Founder and President of Social Compassion in Legislation. "This is a prime example that when special interests do not muddy the waters, animal welfare in our state is a bi-partisan issue. Californian voters of all political stripes want to protect animals from harm."
AB 1881, the Dog and Cat Bill of Rights, described the rights of dogs and cats in seven broad clauses ranging from the right to be free from cruelty and neglect to the right to daily mental stimulation and appropriate exercise. The list of rights would be required to be posted and accessible to public view at all public animal control agencies or shelters, society for the prevention of cruelty to animals shelters, humane society shelter, or rescue groups in order to educate potential adopters.
"I authored AB 1881 to establish baseline standards of care for cats and dogs because they deserve to be cared for properly" said Assemblymember Miguel Santiago, lead author of this bill. "It is vital to inform potential adopters of these standards of treatment prior to adopting for the well-being of these animals"
However, AB 1881, unfortunately and perplexingly, was only allowed to move forward with significant changes to the bill, as required by Chair Marc Berman. The pressure for the changes stemmed from the main groups opposing the bill: the AKC, CVMA, AHI, San Diego Humane Society, and CalAnimals, who all felt that using the term "Bill of Rights" would confuse people into thinking that the posting created legal rights for dogs and cats beyond what is already in current law in spite of a clause in the law explicitly stating no legal rights are created by the bill. Our intent in using "Bill of Rights" emphasizes the needs of dogs and cats and ensures that that conversation is had with all potential adopters.
Now, the language of the bill reads as a list of things dogs and cats "deserve" rather than have a "right" to per the Chair's requirement.
"While we expect animal exploiting groups like the AKC to oppose the use of "rights" for dogs and cats, we are disturbed that self-proclaimed "animal welfare" organizations like San Diego Humane Society and CalAnimals opposed the language," said Judie Mancuso, Founder and President of Social Compassion in Legislation. "We feel strongly that dog and cat's needs, from physical to emotional, should be discussed in the context of "rights" rather than just what they "deserve." The term "deserve" implies something that is not necessary – we believe dogs and cats' needs, even those beyond food, water, and shelter are, in fact, necessary."
Despite the change in the bill language, we are thankful that the bill passed the committee and is moving forward. The bill still elevates the conversation around standards of care for dogs and cats.
Both bills now go to the Assembly Appropriations Committee.
SCIL is a strong supporter of two other bills that successfully passed their respective Committees today, SB 953 and AB 2606.
SB 953, the Save Our Shoreline Act, authored by Senator Dave Min, passed the Senate Natural Resources and Water Committee. Senator Min made a fantastic case for the bill, which requires an amortization study of the three oil platforms in California state waters off the coast of Orange County. The bill also mandates the state to then negotiate a shut down of those platforms by the end of 2024. If a deal between the state and oil companies cannot be reached by then, the bill requires the state to shutdown the platforms. Committee Chair, Senator Henry Stern, also spoke eloquently in strong support of the bill during the hearing. Here is the final vote count:
Chair Stern – Y, Vice Chair Brian Jones – N, Monique Limon – Y, Susan Eggman – Y, Bob Hertzberg – Abstained after speaking against it for a long time, Ben Hueso – N, Ben Allen – Y, John Laird – Y.
AB 2606 Prohibition of Declawing Cats, a bill to ban cat declawing for non-therapeutic purposes, passed the Assembly Business and Professions Committee. The bill is sponsored by our friends at the Paw Project, who have been leading the charge on this issue for years. We are grateful for their tenacity on the issue. SCIL will continue to support their efforts to get this important legislation to end the terribly inhumane practice of non-therapeutic cat declawing.
We cannot thank you all enough for your support. All the support letters and calls are essential for success!
Please go to our How-to-Help page to sign on to our support letters for this and all of our bills!
If you have recently made a donation…thank you so much! If you have not, please consider making one today.
Thank you so much,
Judie Mancuso, founder/CEO/president
Social Compassion in Legislation