Assemblymember Santiago Introduces Bill to Protect Californians and Dogs and Cats from Unscrupulous Pet Breeders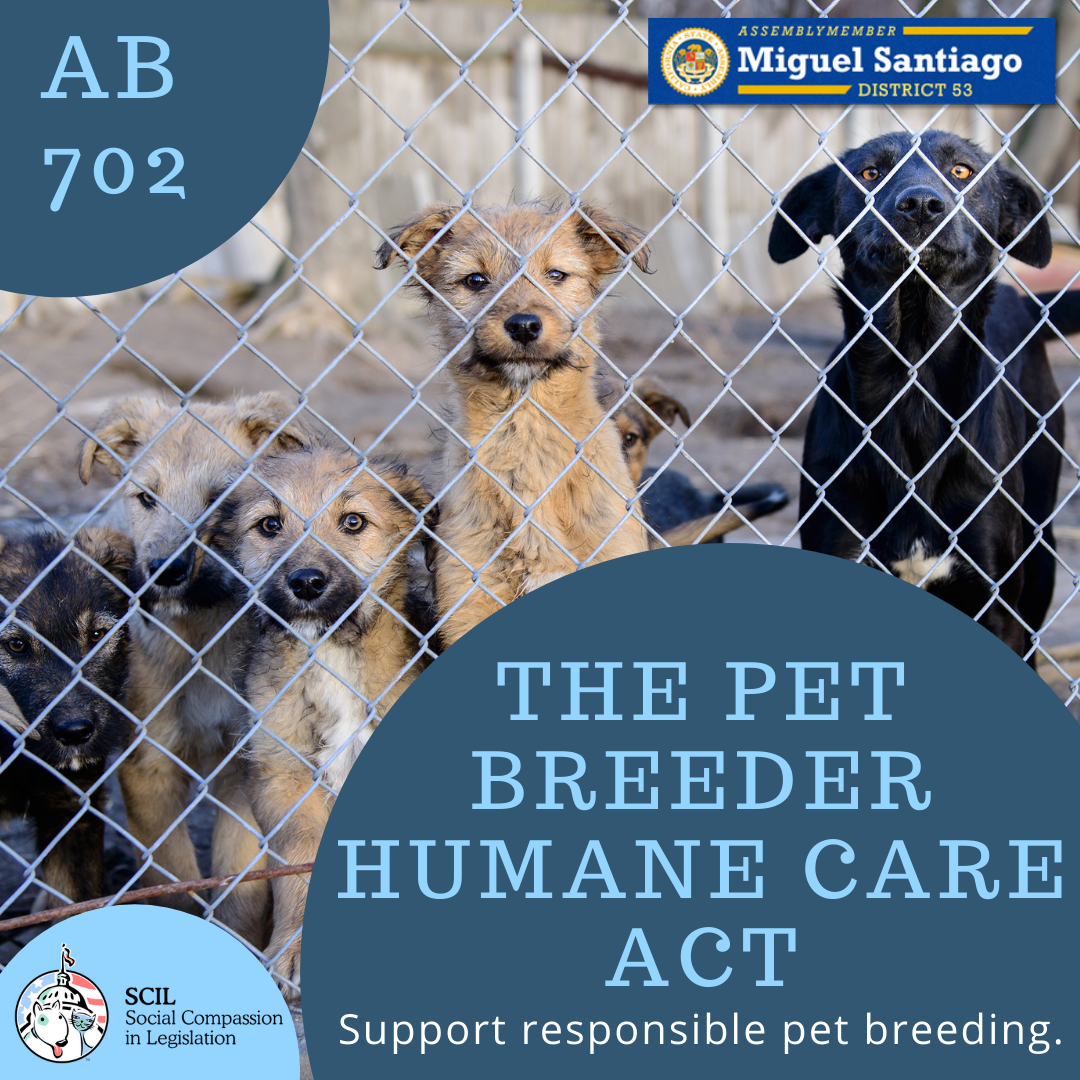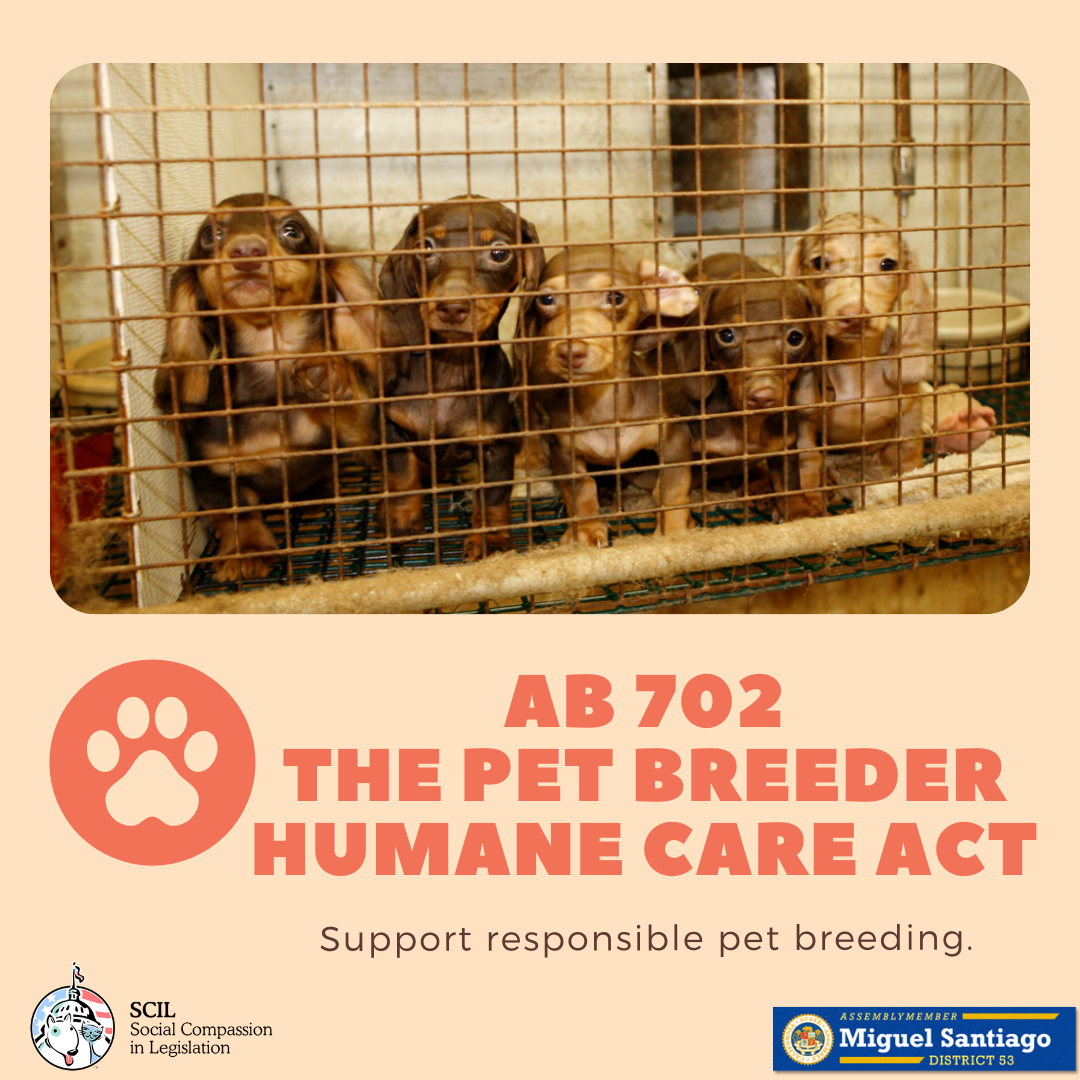 The Pet Breeder Humane Care Act aims to enhance humane minimum standards of care for bred dogs and cats and consumer protection.
SACRAMENTO, CA, February 16, 2021, Assemblymember Miguel Santiago (D-Los Angeles), along with bill sponsor, Social Compassion in Legislation, introduced AB 702, The Pet Breeder Humane Care Act. Historically, consumers have purchased pets, which led to a pet explosion in America. That explosion led to pet overpopulation and the mass euthanizing of millions of pets in shelters across the country, including hundreds of thousands of animals in California every year. Over the past ten years there have been positive strides in raising public awareness of the overpopulation problem in addition to increasing pet adoptions, spay and neutering programs, and microchipping mandates. This bill will set a bar for the care of those pets being bred as well as expand consumer protections.
While Californians are forced to stay home during the COVID-19 pandemic, demand for puppies and kittens has skyrocketed. On the positive side, this demand has helped reduce shelter population. Unfortunately, a major negative side effect of this new demand is the frantic increase of pet breeding.
It is unknown whether the people who adopted and purchased these new pets will keep them in their household and adapt once stay at home orders are lifted and society gets back to work. The influx to our shelters could be catastrophic. We need to expand current law around pet breeding to cover the regulatory void for this industry, and raise awareness on the responsibilities of good pet guardianship and not relinquishing pets once people get back to the office.
"We must take this next step to ensure dogs and cats are bred in a safe, healthy and humane environment," said Assembly Member Miguel Santiago (D-Los Angeles). "AB 702 provides the necessary safeguards to make sure pets are able to thrive once they are with their new owners."
"The breeders that I have had the pleasure to know, love their dogs. The puppies live in their homes, and play with their children. Most of them did not set out to make money, but acted out of a love for the breed," said Dr. Gary Michelson, philanthropist and co-chair of the Michelson Found Animals Foundation. "It is unfortunate that the recent demand has exacerbated the profit-driven breeding which does not prioritize the care of the animals like thoughtful hobby breeders do."
"This bill supports a responsible breeding industry and helps reveal negligent breeders who, though irresponsible inbreeding have created so many deleterious mutations in the pure breed companion animal population," said Paula Kislak, DVM, Board Member, Humane Society Veterinary Medical Association. "These pernicious inbreeding practices cause immeasurable discomfort and suffering by increasing the incidence of painful conditions including degenerative joint disease, severe allergic reactions, inflammatory intestinal diseases, epilepsy, cardiac disease and death. Associated with the increased morbidity and mortality, there is immense financial expense and heartbreak for unsuspecting families. This bill helps bring transparency and sunshine to the industry which benefits responsible members and improves outcomes for animals and families."
AB 702 will expand and improve requirements for the proper care of the animals through local permitting programs. Requirements will include capping litters per animal per 12 month period. Additionally, no offspring should be sold or otherwise transferred until it has reached eight weeks of age, has been immunized against common diseases, and has been issued a certificate of health. All offspring will be required to have a microchip that identifies the breeder, which shall remain on the microchip along with the identity of the new owner upon the sale or transfer of the animal.
"My group has been leading local ordinances and state laws for over ten years that have ended the sale of puppy-mill bred animalsin California pet stores, mandated microchipping of dogs and cats, created a funding mechanism for spay and neuter through the creation of the Pet Lovers License Plate, and made the shelter pet the official state pet of California," said Judie Mancuso, founder and CEO of Social Compassion in Legislation, sponsor of the bill. "AB 702, the Pet Breeder Human Care Act, is one more tool in the toolbox to bring an end to overbreeding and euthanasia in our shelters, while protecting consumers and animals."
"As a former shelter vet of 15 years and a practicing veterinarian of over 35 years, I have witnessed the tremendous suffering, heartache and pain to both the pet and the pet owner due to unscrupulous breeding," said Dr. Karen Halligan, Chief Veterinarian Lucy Pet Foundation and SCIL board member. "It has to stop. AB 702, the Pet Breeder Human Care Act, is a big step in helping to prevent pet breeders whose goal is to profit off of the emotional buy of a puppy or kitten.  All too often I witness these inbred offspring who suffer from life threatening illnesses such as parvo, pneumonia, distemper and other preventable diseases. These poorly bred puppies often start life without the ability to breathe properly due to congenital malformation of their respiratory system, or begin life seizuring due to epilepsy, and sometimes even lack the ability to walk properly due to severe musculoskeletal disorders. It is heartbreaking to watch a pet owner who spent hundreds of dollars on a puppy that is not savable and could have been prevented if laws like AB 702 were in place. I wholeheartedly support this bill and encourage other organizations to support it as well."